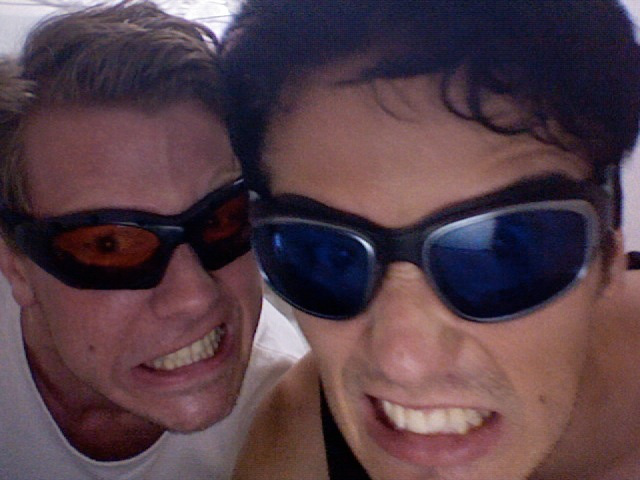 After the shopping back at our hotel we promised ourselves that today we would not miss the Osaka clubbing. Since our hotel was locked between 24 and 06 and the subway closed during night we had a few hours to enjoy the nightlife. I realized that I left my white shirt at the Kyoto-place but instead we found the glasses we bought in Harajuku. After some hesitation and considering the fact we were heading for Joule, a trance club we put them on. We were gay to go.
We didn't use the glasses the picture shows to be honest, instead they were worn as trendy accessories. Only minutes after midnight we were exiting the backdoor of our hotel and sneaked into the humid night. Our journey didn't start off that well though since the subway station apparently closed already at 24. Strange that you need to catch the last ride in to the town rather than the other way around. Anyways, we hailed a cab and instructed the driver to drop us of at Shinsai-bashi station.
My seat belt wasn't working and the driver drove, well, like a taxi driver in a stolen car after Ulf asking him how many minutes it would take. Taxi aren't cheap at all in Japan, we payed the same fee for the cab as for our room, and this was a short ride for three subway stations. When we got there we saw people sitting around and drinking, sleeping and being generally drunk, it felt like home. We walked to the closed convenient store, bought a beer and a snack and sat down wondering how to get to Joule.
We couldn't quite find it, and it struck us that this website did actually have the year 2003 mentioned somewhere. It was quite possible and even probable that the club wasn't there any longer. Well, this was the party area so things would work out just fine. We saw a sign for some pub and after taking some stairs, uncertain whether we were breaking into anyone's private house, we opened up the door to a small pub.
The pub had one DJ playing quite nice hip-hop/jazz, two really worn out leather couches, the bartender and another guy at the bar. We ordered Shochu on the rocks and after that we paid old Jack a visit. The DJ played a really nice tune that we had to ask about, The Federation – See through. We need to check that up when we get home, he offered us to buy the record but since we don't own any phono players we had to reject his offer of a dollar.
We started chatting with the guys there and after some introductions the bartender, Shato, asked us 'how did you find this bar?'. I guess gaijins weren't part of the classic clientele but they were really friendly. We asked for advice about clubs and the DJ was going to play at a club close by, this was a drum'n'bass/hip-hop/house type of place with lots of girls. It smelled like a obvious lie but who are we to judge 🙂
When we left the bartender closed the place and offered to show us the place. We met up the DJ at another place where he was chatting with some club manager. We smoothly glided in backstage but we left that club. We talked about swedish music and drum'n'bass and I mentioned that we were at a really good party at Womb in Tokyo where guys from the label 0165 played.
The DJ, DJ Keenai, then asked me if I knew Aki (which was the guy arranging the party on the day we were at womb) and I said that I didn't but we mailed each other (I hope to grab a record of his music to bring home) and that he had given me his cell number. Aki and DJ Keenai were apparently friends and played together now and then and he thought it was quite funny that I've manage to meet them both during our short visit in Japan. I guess we are good at spotting good drum'n'bass dj's in Japan 🙂
When we got to the club he would play we were friends of the DJ and of course we didn't pay any entrance fee but instead were introduced to what we think was the club owner. The club was bizarre, apart from the interesting mix of music the floor was covered by a red fluffy carpet, some guys were playing pool and other throwing dart. This to music at a volume close to painful. Needless to say we were the only two western guys.
When DJ Keenai got to the stage he really owned the dance floor and I and Ulf could't resist dancing even though most cool guys at the place didn't dance 😉 I need to check up a drum'n'bass remix of that pulp fiction song when I get back to Sweden.
After Keenai played some of the guys left, we had some more drinks and then decided to check out a trance place nearby called Triangle. Said and done. Japan have apparently a lot of skilled DJ's, this place wasn't as good as Womb or DJ Keenai but it was above average by any swedish standards. After some dancing and drinking we decided to call it a night and managed to get home on the subway without any problems. When I woke up for the first time at 10 it felt like a really good idea that we had the room for one more night just to avoid check-out at 0930. I guess I do learn from some of my mistakes. Next stop after leaving Osaka is Hiroshima.