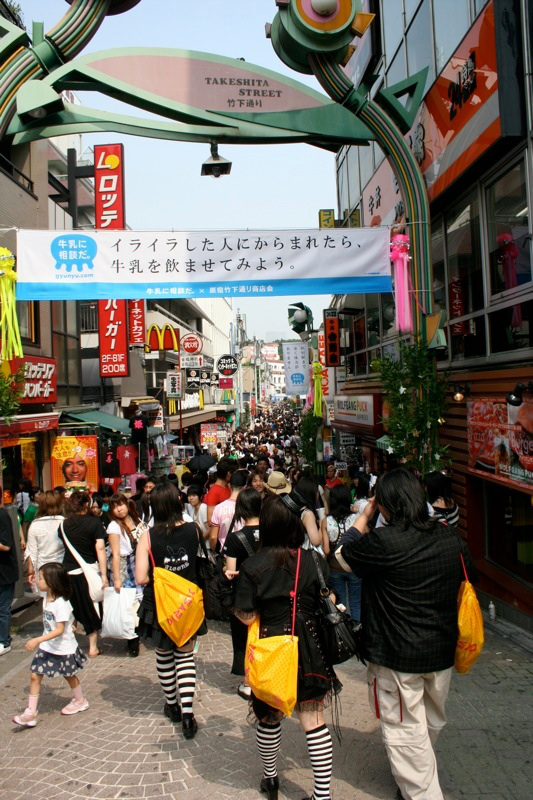 Me and Ulf decided to check out Harajuku today, when we reached the station we immediately noticed the steady flow of goth/punk/lolita girls from the station and smaller streams from other places. We then saw a nice park and I remembered that Anna Å (good girl!) told me to check out this Meiji Park or something in Harajuku. Which we did, it was quite a view, nice and calm. This park was supposedly planted by some emperor when his wife died. We realized that this area is probably worth quite much since all buildings have 5-10 floors around it. There was a boring museum which showed Kanji Calligraphy from emperors, we were happy that we claimed to be students and got in for half the price. When we felt we had enough of culture we got out and that never ending flow seemed to even increased by now. After standing and watching this scene for a few minutes we decided to see where everyone was going. This showed to be a wise decision since it took us to another of our 'things-to-see', Takeshita Street. In short that was teh shit.
Have you listened to Gwen Stefani's song 'Harajuku Girls'? If not do so, I thought I'd have the song running in the background for this entry but I decided that I'm running out of web space fast as it is.
If you've been to Arvika Festival, or any other open air festival with focus on Goth/Synth/EBM you know what the those girls can look like; stockings, nurse dresses, The Nightmare Before Christmas clothing, skulls, crosses, neon lights, Hello Kitty mixed upon that with a torn Ramones T-shirt. You have all seen them somewhere, but they usually dress more intense when acting in groups.
These are mere boring replicas of the creations that inhibit the quarters of Harajuku around Takeshita street. I suggest you google images and Harajuku for some samples. It should be noted that the percentage of obese and fat are impressive low overall in Japan, and so even her. There was perhaps one or two sights of what could have been stranded whales but nothing that required calling Green peace by any means.
In summary, the girls looked really good. As most girls in those clothes would. Hell, even the guys looked like good-looking girls, if this is a good or a bad thing I won't be the judge.
After covering the more interesting parts of Harajuku we went strolling in Shibuya which more is classic/fashionable shopping. The goth girls wasn't in majority any longer but still showed a strong presence. It might been that the memories of beautiful swedish people are fading but the crowds look, in general, much better today. In Shibuya it was more common with miniskirts and nice printed t-shirts or tops. After some empirical studies me and Ulf concluded that Japanese people have way more skillz when it comes to printing on t-shirts. Usually prints on any clothing suck but Ulf and me couldn't resist some awesome prints. I might add a photo to this later but I'm trying to save bandwidth for now.
A few more things that we have found out during this day.
Japanese people use clamshell cell phones. We haven't seen one single other cell phone and we have now probably seen enough to make this a statistical truth.
Japanese people don't seem that skilled wearing high heels as compared to e.g. Russians. We will conduct further studies on this before we present any valid material though.
Open WiFi networks are very common but we found a place where no networks were open.
Todays shopping included the following: A really nice pair of jeans, a pair of blue googles, two ties, an awesome t-shirt and a belt. Nothing that was really cheap but looked nice enough. I'm now quite certain that if any item exists to be purchased, that item can be found in Tokyo. I could live here. Next time I'll probably skip all luggage except Visa-card and gadgets…