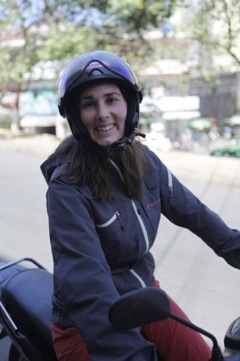 After a good night's sleep we tried the breakfast at our hotel, Les Sapins 60, which wasn't bad at all. We had only done limited research about Dalat but decided we would scout the nearby areas by motorcycle today and wait with any longer tours. We rented a motorcycle for 5 USD, manual gears since it was half the price of an automatic and as Mona put it – How hard can it be? With yours truly responsible for reading the map and navigational issues in general and Mona head of traffic security we headed off. After a small incident which had no casualties or material damages Mona also learned how to brake. For a moment an old memory when I tried my brothers mini-motorcycle flashed before my eyes but this time things didn't collide.
First stop was Hang Nga Crazy House. This is the creation of a (in)famous architect, and the best way to describe it would be Gaudi designing a Smurf village and tossing in some scenes from Alice in Wonderland. One of the architects prior creations, House with 100 roofs, had in the past been torn down for being considered non-socialist. I suspect some pretty good drugs were involved in the creative process and the government really didn't want the loyal farmers to get any ideas. We thought it would be pretty cool to stay here, but as more tourists kept coming we passed on the idea – they do offer rooms but any resemblance of privacy is not included in the price.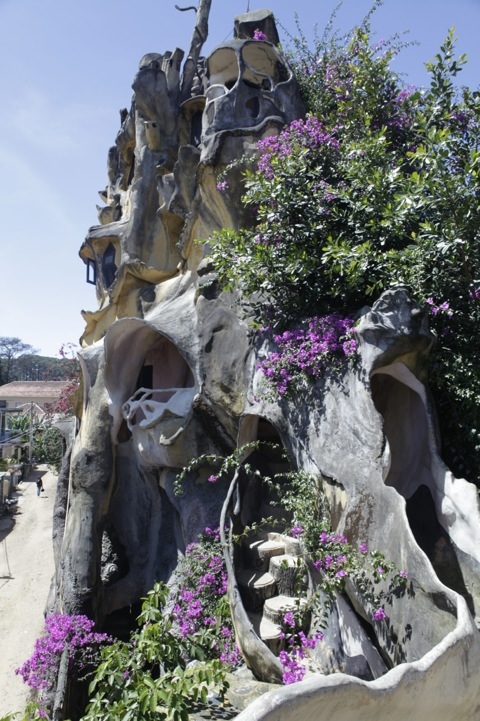 We got out of Dalat and headed south on Highway 20, which isn't the best description of the road to be honest. After a little while of scenic driving we arrived at Dantala Falls. We took the roller coaster down to the waterfall which was quite fun. We went further on, riding some cabin to get to yet another waterfall but this wasn't really worth the time (and of course extra money). After that we continued south until we got to Prenn Pass, another waterfall turned into a theme park. We had lunch and bumped into some travelers from our hotel who was kind to lend us some sunblock. We considered going further south to Chicken Village (named so after their huge concrete chicken in the middle of the village) but decided we would head back to Dalat for some slacking and research instead.
Going to the supermarket for sunblock was quite painful as they insisted on playing an awful techno/sleazy version of Happy Birthday to you on single repeat. After dinner we talked with one of the staff about potential trips. We realized this was most likely the same lady who offered a way to expensive taxi. Starting at 250 USD for a tour to Lak lake and back (including a 4X4 Car but still) she dropped to 180 but we said we would consider this overnight.