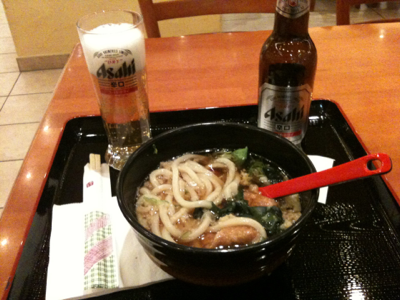 After a nice breakfast at Tintin in Göteborg, we strolled back to my apartment, ordered a Minitaxi, and jumped in. I always love the feeling of freezing when going to the taxi and leaving my warm clothes behind. Well at Landvetter we saw that our first flight was a little more than an hour delayed. Well well, less wait in Frankfurt doesn't harm that much I guess.
After checking in, having the always "Are you really sure?" – inducing Ice Chai without Ice at Espresso house we finally boarded. The good old Frankfurt flight went like a breeze and we had now a couple of hours to kill. After strolling around the transit areas we realized that we were better off leaving the area and at a later stage return through security again. Said and done, we took the time to check out a store I've never gotten around to during business flights and had dinner at some shabby-expensive-airport restaurant. 16€ for Udon-soup and a beer, not tasting that good.
It was now time to get back to the gates, which required a boarding card – which we were instructed to get at the gates. Surprisingly unclear German logic but nevertheless we managed to find some personnel at South African Airlines who happily assisted us, and asked for our luggage slips. Which of course was attached to the passports I safeguarded, or so I thought. Apparently they had been attached to the boarding passes for the first flight, by the man instructing us that we needed to check in again. In order to save weight, I had cleverly placed these used boarding passes in a recycle bin upon arrival in Frankfurt. In order to solve this dilemma we just had to find "the luggage guy".
Now our huge buffer of time had shrunk and for some reason I wasn't even surprised when after going through security for the umpteenth time in my life – I was instructed to follow a man to undergo "a special search". I braced myself for this non-planned, possibly homo-erotic, encounter but instead they swiped all my electronics and optics with some sort of paper strip. A few minutes later I got the verdict, there were no explosive chemicals to be found. Good for us. We magically found "the luggage guy" who said the computers are locked up and he can't help up and then asks for our names. When I stated my name he shone up and said "oh, but then it's no problem" – why I had no idea but it seemed wise not to argue this. Crossing our fingers we got on the flight and after a few drinks dozed off…