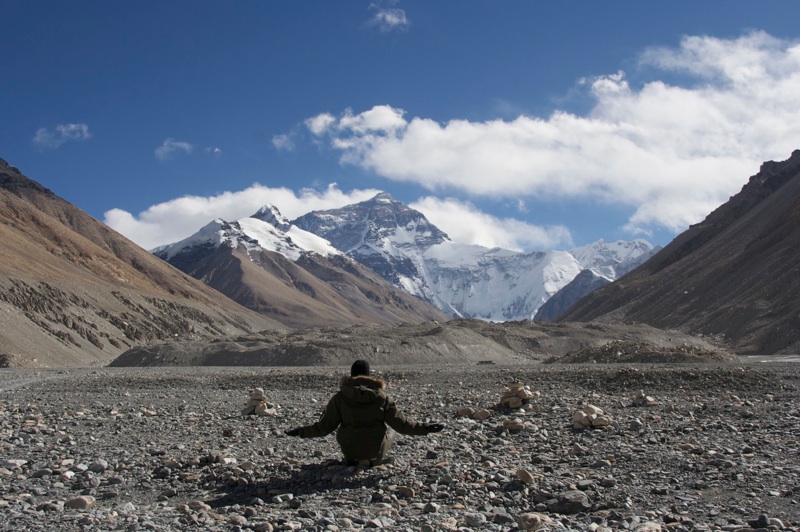 Sleeping through without any real competition the coldest night since I started my journey I started my morning by breathing white clouds and showing some hot instant noodles to invigorate my frozen body. But today is not a day for lament. Today we will see Mt Everest. This has been what I've been looking forward to most of all things in Tibet. After our waking up our driver who had overslept it was off towards Everest Base Camp.
Passing scenery surpassing ordinary beauty we drove slowly upwards the mountain of mountains. When we came to the place where tickets were issued we were told that the price was 18 € rather than the 6.5 € (plus 40 € for the vehicle) expected. No sense to argue here, just another trickle of money to the government I assume.
When arriving to the base camp it was clear weather and quite warm so we stayed for more than an hour just watching, taking photos, playing around and some more watching. The raised fee seemed like nothing in respect to what the sight gave me. It's really an amazing feeling watching the mountain, I will not try to hide that the thought of climbing struck my mind. Maybe next time.
The elevation of 5200 meters didn't give my any problems except I needed to catch my breath after some acrobatics. The base camp itself was a few container-style buildings which didn't impress much. Instead we drove back to the Rhongphu monastery we had passed on the way up.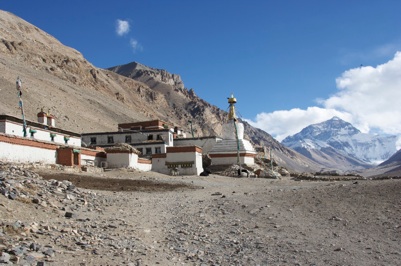 The monastery didn't hold anything in particular, it's rather small (some 30 monks/nuns), but can at least claim to be the highest monastery in Tibet, thus in the world, with an elevation of 4980 meters.
We drove back heading for Shiga were we would spend the night (and later Sakura and Jung-Wook would depart for Nepal). At the border control (in theory someone could trek from Nepal over the mountains into China) it was some lesser confusion regarding the fact I had two passports (damn you Aeroflot!), but they dutiful chinese soldiers in the end just jotted down the details of my two passports in their log book.
Jue-a promised that the hostel we would go to in Shiga was warm, and he was partly correct. The room where they prepared our dinner was cosy and warm, the room where the five of us would sleep were not so warm though. After dinner I greatly impressed on the locals by taking forth my macbook and playing the video with Jue-a's cousin.They knew the song and gladly sang along.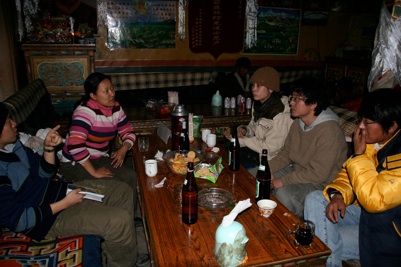 After some chatting and drinking we retreated to our room, three blankets and my jacket on top ensured that I could sleep without waking up shivering every second hour.