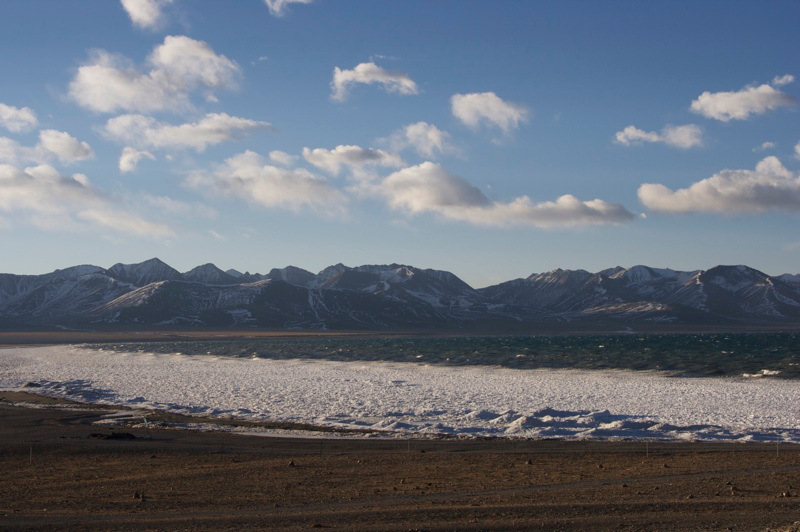 The good news from the driver was that he could drop of Jung-Wook and Sakura and take me back. The price issue was apparently built on the fact that we would be six people (!). He agreed to have a set price for this trip, and had another guy wanting to join the 11th. We would like to leave the 10th, in my not so humble opinion the guy would have to alternatives; to cough up the complete sum and go the 11th or do a four-way-split and join us the 10th. The problem was that we could not get in touch with this guy.
So the deal now is that we leave the 11th, if he shows up we pay about 75 € each, if not I will pay his and my share. The reason for this is that Sakura has another option of the 12th and Jung-Wook might also stay and wait while I need to get my behind moving in order to get back to Beijing in time for my flight home. So what to do the 10th then? Well there were some one-day trips so we make a quick decision to go and see the Nam-Tso lake, which at its 4718 is the highest salt-water lake in the world, according to the local signs atleast.
We would start the trip at 0530, in order to catch the sunrise at the lake, so it was high time for some sleep. Before going to bed we had to rush out and find cakes, beef-jerky and other substitutes for food though, since there were no restaurants on the trip and eating has its documented benefits. Said and done, off to sleep for a few hours and then up again. I had set both my phone and the iPod with speakers which proved to be a good thing since there was a power outage about 0510.
We slept more or less the whole way to the lake while it was too dark to do see anything. Well arriving there it was a awesome sight. The backdrop to the lake is Nyenchen Tanglha mountain range with peaks around 7000m, throw in a frozen shore in sunrise and I got goosebumps just from watching. The high altitude, strong wind, season and time of the day made all their contributions to the experienced temperature though. Refreshingly brisk would be my description as my fingers quickly started to numb off while snapping away photos.
After little more than an hour we get into the Jeep again and head back to Lhasa. On the way back we stopped at a few places to enjoy the view. Tibet has maybe the most beautiful landscape I've ever been entitled to see. On the way back we saw many pilgrims reciting prayers facing the mountains along and on the road, I guess they thank their Gods for the nature whereas I simply enjoy it. The ride back was nice and warm except from my feet that were in some sort of draft.
Back at the hotel I no longer felt that my feet were cold. First I thought this was good until I realized that they were yellow and probably better off warm than numbed. A shower and a improvised foot bath (sink + shower) later they had regained their more healthy color as well as sensation. Yay!
Now it's off to barter for a memory card and see how the plans hold this time. Managed to pay 40 € for a 4 Gb, not that bad. The plan actually seemed to hold, or sort of. We leave tomorrow after waiting for a chinese girl who needs to take a shot after being bit by a dog. So that means that I wont be publishing for a few days.
Sakura, Jung-Wook and me treated ourselves a dinner for good luck at Pentoc restaurant (really good and very cheap) before the meeting. While eating I heard some tibetan pop-techno from across the street and attempted to record it with my phone. It was more or less impossible to hear anything. Still, after the successful meeting with our travel guide I went by the shop selling vcd's and played the sound for a girl working there. Who of course recognized it and I could buy the works of this artist for 2 €. This will be the big hit next summer in Sweden, I promise.