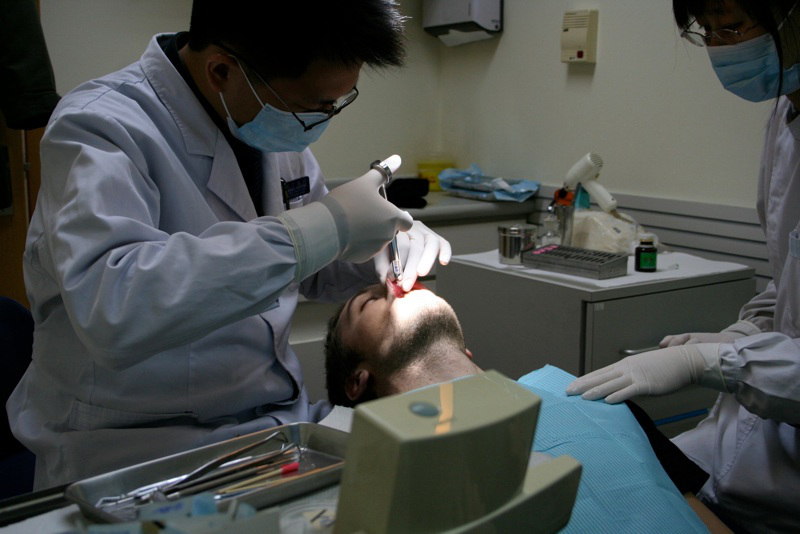 I started my day by redeeming my sins at the dentist, Laura joined and studied the local dentist. According to her he was somewhat sloppy regarding the check-up and more focused in straightening my teeth (not yet, thanks for the compliment though). It was about half the swedish price though, the X-rays revealed that there was more work to do though. Laura recommended me to do that in Sweden though, I already long for that bill.
After being such a good boy I decided to treat myself with a new lense for my camera. I bought a Sigma 18-200 OS and Ulf didn't want to look cheap so bought one for his Nikon as well. We strolled around playing with our lenses and ended up on a chinese McDonald's to see if they had any chinese menus. Which of course they did, tasted better and was about 1.5 € each, still I managed to get > 75 % of my daily recommended dosage of fat and a fair amount of sugar as well so I guess it's same same.
We also took the opportunity to check out the subway system. It was quite fast and convenient (although Tokyo is still number one) but it was only five lines so I can see why people prefer the cheap taxis. We found the Llama Temple but it had too much commercial look of it so we left for home. Alex father Ray and his wife Florence had invited us for thanksgiving dinner so we decided to get back to the hostel.
My first thanksgiving dinner ever was nice, good food and nice discussions. We decided to get to bed rather early though as Henry would drive usto the airport at 06 and we needed to pack and check-out before that.