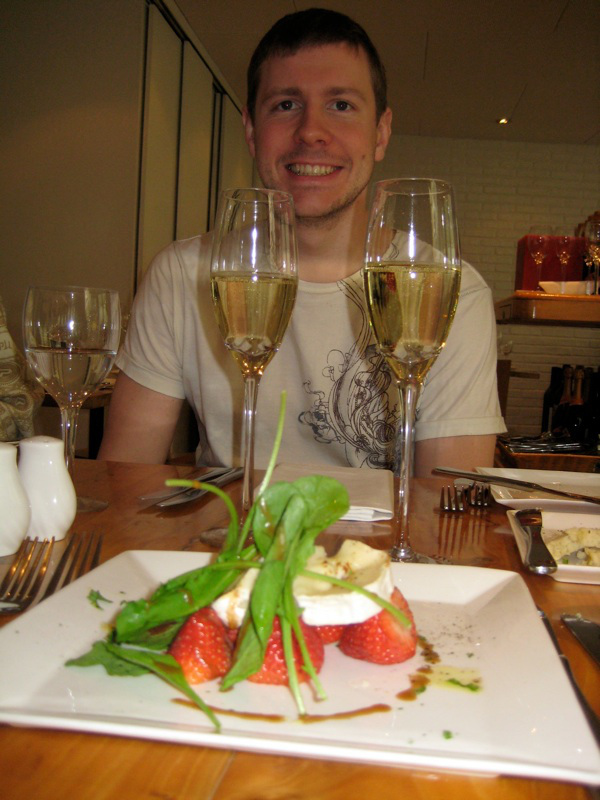 Whatever the quality of last nights clubbing it sure felt good to sleep for just another hour, and another. So we skipped breakfast and instead joined the others for lunch at some italian place. Someone was in a spending mood and who was I to object to starting with Champagne and a three coarse breakfast? A decent bill and a really nice latte later we were off to some more markets.
I found a nice lens but the price was a bit steep so I postponed that for later, next stop was Aria, which was supposedly "a nice restaurant". Taking into consideration the previous places this looked good. The girls mentioned shirts a bit too late so it was sloppy dressing though.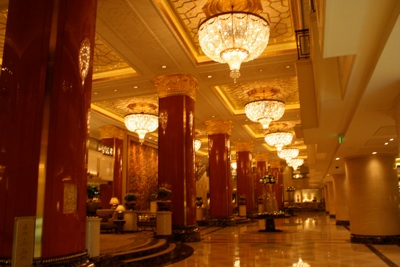 When entering the lobby It looked quite nice, we then found out that Alex had booked us top table we realized that it indeed was a nice restaurant. The food was delicious and the service good as well. This reason for going here was that Rhys, who is a bartender, had read about this place having the best bartender in Bejing as bar manager here, Bruce Li (sic). Rhys mentioned this to the waiter and later Bruce presented himself and gave as complimentary BMWs (Baileys, Malibu and Wiskey, muy nice) and we promised to join him in his bar after our dinner. The waitress who brought the drinks dropped a glass and poured out a few, I felt sorry for her since the glass was probably around a month of her wage.
After having a Strawberry Daiquiri (this guy knew how do to drinks) we went to the bar. It was a nice live jazz-trio and in general a perfect atmosphere. We kept up the class with some Remy Martin XO, the girls then decided to leave but guys stayed for another hour or so. Rhys got another complimentary drink, a blueberry Mojito which beats any Mojito I've tasted by far. Luckily for our budget the bar closed quite early, when arriving at our hostel me and Ulf got a meat-on-a-stick each that was sold on our street. When paying we realized how bizarre prices for food and drinks are, we had dinner for about 100 €, drinks for 50 € and final snack on the way home for 1 €.